2023 Programs
Washington Business Week places students in a dynamic simulation where they role play as industry professionals, launch a company, sharpen their communication skills, and solve real-world challenges.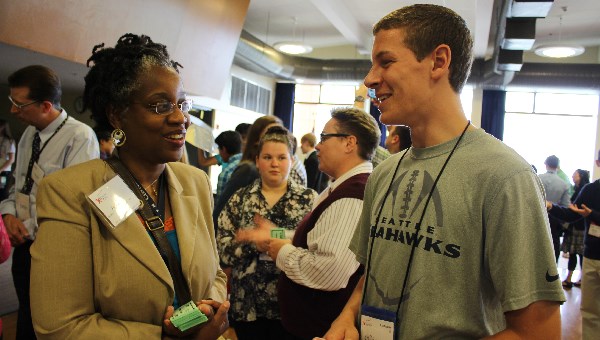 Volunteer at WBW
At Washington Business Week, high school students learn crucial life skills as they role play as industry professionals, launch a company, and solve real-world challenges.
In-School Programs
For one week, community leaders and local business people work side by side with educators to organize and deliver the Business Week Program at a local college, church, or high school.
MISSION
Washington Business Week provides a dynamic real-world, immersive business experience that builds confidence, sense of purpose, and leadership.
VISION
Washington Business Week unleashes passion for entrepreneurship and leadership, empowering business teams of tomorrow.
Years of connecting teens to business leaders and college opportunities
Number of youth having graduated from our programs
Scholarship dollars given to program attendees
Total students served in 2023
"One of the things I love the most about this camp is that everyone who's here really wants to be here and is extremely dedicated. This past week I have met so many amazing people and witnessed informational, entertaining presentations by inspirational speakers. I am leaving here with so much more knowledge and unlimited opportunities."
– Pavana, Issaquah High School
We had Virtual and Traditional Camps in 2023!
Program Pathways will be offered in:
Business
Advanced Business (Alumni Only)
Clean Energy
Telehealth/Healthcare
All students earned two elective transferable college credits from Renton Technical College!
THANK YOU SPONSORS: YOU MADE A DIFFERENCE.
"It actually changed me! I didn't think a week would make a difference, but WBW proved me wrong."
– Meha, Eastlake High School
"I had an amazing time, met new people, learned new skills, but most of all I'm leaving with more motivation and a new sense of direction."
– Vani, Tesla STEM High School
"I have gained leadership tips and qualities that I will keep with me for my entire life."
– Audrey, Hazen High School
"My favorite part of this week was witnessing my teammates step out of their comfort zone and grow. To be able to stand in front of judges and watch my team passionately deliver all of our hard work was incredible!"
– Carlie, Inglemoor High School
"The skills I have gained such as leadership, kindness, teamwork have helped me improve as an individual."
– Hanson, Issaquah High School
"I have been exposed to a whole new world, and I have learned to use my mind in a whole new and different way."
– Owen, Mercer Island High School
Get updates about Washington Business Week's summer camp details, scholarship opportunities, program speakers, volunteer and career opportunities, and more by subscribing to our newsletter!